The Winchester Model 52. One of the greatest rifles of all time. Some even have called it "perfect" in the past. I don't know if it is perfect but it comes about as close to it as I would want in a rimfire target rifle that comes from a factory. The M52 was made in a time when manufacturers still made stuff mostly by hand. Especially when it was prestige or target model.
The 52 came out in 1919 and was used in the national matches that year and it was an instant hit. The original models, often referred to now as "As' or Pre As" looked more like a training rifle for the military ( which it was meant to be) than it looked like most people's concept of a target rifle. It went on to be refined over the years before it was discontinued.
The two we are going to look at here is the model52 "B" and "C" variants.
The differences in the two variants is slight. The triggers are different designs, the barrel band is slightly different than the stock has minor differences but they would not really have been different enough for Winchester to bother to note them as different models in catalogs at the time.
The top rifle is the "C" and as you can see, it has mounted on it a 20x power Unertl combination rifle scope. The Unertl/Fecker type optics attached to the guns via target blocks that are screwed to the barrels. You can see see the target blocks the optics mount to on the barrel of the lower rifle. I will have more on the Unertl in a few days if it as caught your attention
All rifles would accept all of the popular target iron sights of their time. Usually something made by Lyman or Redfield. The lower gun has mounted Redfield Olympic competition ironsights. The rifles take a standard 5 round detachable magazine that is removed via the mag release button seen on the right side.
The rifles have an accessory rail on the bottom of the stock forend. This allowed attachment of the front sling swivel and the combination handstop/sling swivel seen on both guns. This was for shooting with sling in matches. The rail also would accept other items for use off hand standing, The pattern of stock is known as the"marksman" stock and was used on the Model70 national match andd Bullguns. It was so well thought of that it continued on into the early 2000s but as a synthetic model made by HS-Precision with a bedding block and pillars for the heavy varmint line of Model70s.
The barrels are heavy contour match barrels. When I say match I do mean match. They have a flat 90 degree target crown and you can see the target block for placing the olympic front sight with either globe of post.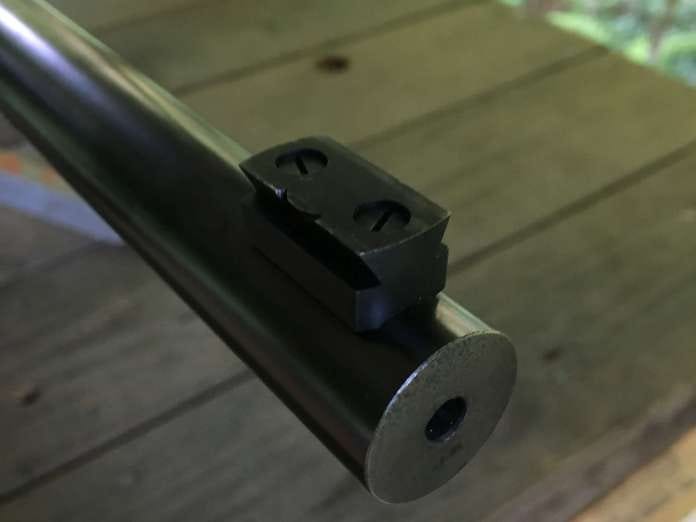 Accuracy testing the rifles was done with the 20x Unertl on a rest. All groups were fired at 50 yards.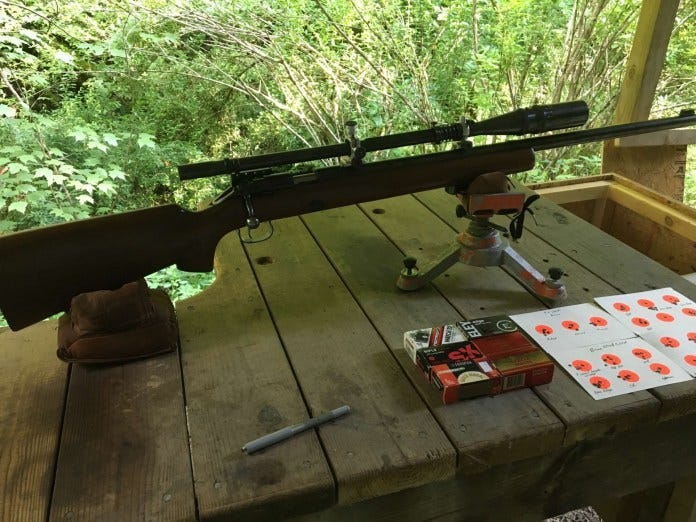 As with center fire rifles, rimfires have their favorite loads. If you want the best out of your rimfire,match ammo is a must and not the high velocity stuff. A well known phenomenon is that a 22 rimfire will shoot better of damp days. For further accuracy I recommend a Niel Jones rimfire headspace gauge for measuring rim thickness for consistency and weighing live rounds into lots.
http://www.neiljones.com/html/rimfire_gauge.html
Both guns were shot with a variety of ammo in five shot groups.
I won't give any commentary about the groups pictures and will allow readers to view them all sine each group has ammo type used noted.
As you can see three different people fired both guns using a large range in ammo. The Eley Edge and Federal ammo being the best performers across all three shooters and both guns. No surprise there. The Fiocchi 320 was a surprise to me though. My friend who purchased mentioned that only that lot shot that well. That identical boxes of a different lot shot terribly. That is why you always test your zero when going to a new lot of factory ammo. Especially if you are a Police sniper. Even if you are not, it is very prudent to check zero and accuracy when you use a different lot of the same ammo.
The Winchester Model52 is another great American classic. If you are into vintage target rifles or you want a rifle you could do well with in any local match , you can't go wrong with a M52.