Back in June I shot a vintage original Colt AR15 SP-1 carbine to see what kind of accuracy could be expected from one in good condition. The results got me thinking about the M16A1 and the accuracy it could deliver. Of course the internet and gun magazine experts always like to remind us how the original M16s didn't impress when it comes to accuracy and you should totally feel good about paying 400 dollars for modern barrels. After all they do have everything man can devise to make them more accurate. You got gold coloring, chamber dimensions that are a hybrid of the NATO spec chamber and civilian competition variations, different materials and methods and every contour and length you can think of. Aren't we lucky that we aren't stuck with those old crummy barrels from the 60s?
The SP-1, otherwise known as the Colt AR15 is essentially an M16 in all but the fire control group. The barrel is the same as was used on the M16 series. Like the SP1 carbine, the barrel is the 1/12 twist chrome plated ( bore and chamber) milspec barrel. The twist rate means you won't be using any pet 69 or 77 grain bullets, but they didn't really exist in its original day so your choices were simple.
I put the gun up on bags and use the original Colt 3X scope I have mounted on the gun for shooting the groups. I wanted to stay within what some one would have used at the time but wanted to be able to squeeze more out of the gun than irons sights would allow me.
Most of the ammo I used were hand loads I have developed over the years that have always given me great accuracy from bolt guns and semi autos. I did shoot one group using M93 just to see, but since I wanted to test what the gun could do, I gave it the best ammo I had.
The first group shot ( above) is also the newest load I have developed. This is one I came up with about 6 years ago with the exact purpose of using the SP1 for hunting by my Dad. He wanted to shoot a deer with the same gun he carried in Vietnam. I selected the excellent Barness TSX solid copper hollow point for a deer load and it performs. The TSXs are long for weight since they are solid copper. So you even with a 55 grain bullet you may end up with a bullet a little too long for the 1/12 twist to stabilize. The 55 TSX will work fine as it turns out but I wasn't sure at the time and the bullets are very pricey so i went the safe route. You can see the 5 round group above, fired from 100 yards.
The next group is an old fav. The Nolser ballistic tip boat tail 55 gr bullet is a great bullet that seems to be impossible to shoot bad. It lived up to what I hoped in the AR15. As I labelled the picture, its 5 rounds at 100 yards.
This group was a little bit of a surprise to me. Sierra blitzkings have always been interchangeable with the Nosler for me. It is still nothing to complain about but i actually thought they would out do the Noslers for some reason. Maybe I didn't let the barrel cool between shots like I had the other groups or who knows what. That was the last 5 rounds I had with the blitz kings loaded though so I couldn't shoot a second group.
The Hornady V-max is a great bullet. A short stubby basllistic tip boat tail that you can get going pretty fast in a 556 because of the weight. Like the Sierra 53 grain flat base HP its short length seems to made for use in an AR15. It is another load I have been using over 20 years and it always performs. It really was exceptional in the old SP1.
M193. No shock here. Maybe that it even did that good. But its only 100 yards and that is a 2 inch dot.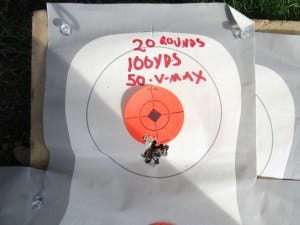 The final group. A full 20 round magazine of the most accurate lighter weight bullet load I have ever come up with. It's the load I use in my heavy barrel 223 bolt guns for crow hunting and varmints. The 50 gr V-max is a great bullet and there is not a .224 round made that won't shoot it well in my opinion. I should mention it took me about 35 minutes to shoot those 20 rounds. I had taken a long break before i started this group and gave it my complete effort and I think it paid off.
Now keep in mind, I did some warm up shooting with the gun and most of those loads before I got down to the "record" strings. Since the barrel on the original guns are much thinner than what people are used to using now it has to be taken into account when you are trying to get everything out of it you can. It took most of the day to shoot those 6 groups. Letting the barrel cool and slowly firing. Even using that 3x scope took a lot of effort, It is still clear and find but the crosshairs are not what you would call fine, this being the reason i adjusted the rounds to impact below my aiming point It was hard enough to see the dots from 100 through it as it was. The trigger on the gun also was a great help since it is not the factory trigger. The lower and the FCG used to belong to a now long retired AMTU armorer and he had worked the parts over in the 80s before mass produced match triggers for an AR didn't exist and not many people ever thought they would exist. It is a single stage trigger that breaks so light and clean that you would wonder if its even safe. I have no idea how he did it but I have not felt a modern match trigger for semi autos that feels better. I can honestly say its the best feeling trigger I have.
So, those old barrels and guns aren't so bad after all, assuming its in good shape and not worn out, shot out or pitted out. Ammo selection as usual was the limiting factor. I kinda like the idea of a varmint precision AR with a 1/12 twist barrel now that i think about it. Even if it existed though there would not be much point to it, as the 1/7 or 1/8 will shoot these lighter bullets just as well or so close it isn't worth debating but the 1/12 will not shoot the heavier more useful bullets.