From Zerohedge
Ever since Russian forces invaded Ukraine, Americans have panic hoarded all types of ammunition, according to a top US online gun retailer.
"A recent surge in consumer demand for small arms ammunition – the onset of which perfectly coincided with the Russian invasion of Ukraine on Feb. 24, 2022," AMMO, Inc., a US-based ammunition and components manufacturer, said in a press release Friday.
Los Angeles-based Ammo reports between Feb. 24 and Mar. 10 that revenues surged 166%, and transactions are up 110% over the previous two weeks. Website traffic for the period is up 59%.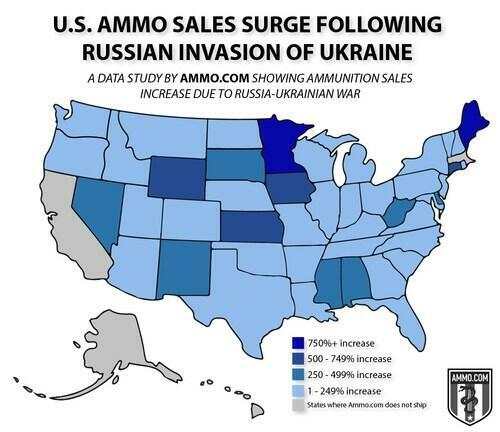 Customers in Texas, Florida, and Washington bought the most ammunition by volume. They mainly bought 9mm and 5.56×45. Here's the complete list of the top ten states for ammunition sales for the period.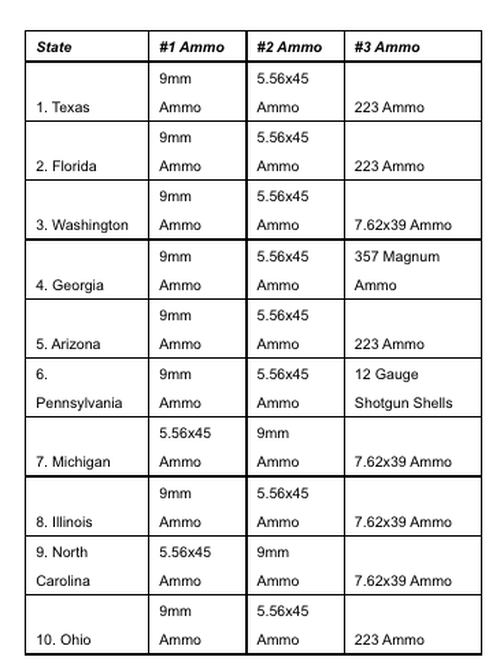 "We noted a similar surge in demand for ammunition during the onset of the COVID-19 pandemic," said Alex Horsman, marketing manager for Ammo.
"As neoconservatives and the mainstream media both began calling for American intervention in the Russian invasion, wary firearm enthusiasts sensed that the products they need to enjoy their favorite hobby could soon become scarce.

"Many Americans predict that a war effort would significantly limit the amount of ammunition available to consumers. Others fear that the Biden administration, via executive fiat, will somehow limit private salesof ammunition under the pretext that those products must be shipped overseas in support of the Ukrainian resistance."
Across the Mid-Atlantic area, Maryland-based gun shop The Machine Gun Nest notes that the conflict overseas has sparked buying interest for AR platform weapons and increased ammo sales in-store and on their online e-commerce shop.
"We have definitely seen a major surge in ammo sales here in the mid-Atlantic region. The war in Ukraine certainly sparked interest in the US, particularly among gun owners, who feel that the Ukrainian people are a testament to the absolute necessity of an armed population.

"We have seen sales of 9mm & 5.56mm skyrocket, with some customers purchasing as many as 20,000 rounds at a time. We've also seen increased demand for Russian ammo, with 7.62×39 and 5.45×39 seeing increased demand. The Biden Administration blocked the importation of Russian ammunition with sanctions in the fall of 2021, and the war has certainly added to the demand for these imports that are slowly drying up."
Taking a look at ammo prices via ammo tracking website Ammo Prices Now, they report 9mm prices are steady near 30 cents a round on Saturday. However, 5.56 has jumped 23% since the invasion, from .44 cents to .55 cents.

Also, internet searches for 5.56 ammo jumped to the highest level since January 2021, when people were panic buying guns and ammo due to the summer of social unrest in 2020.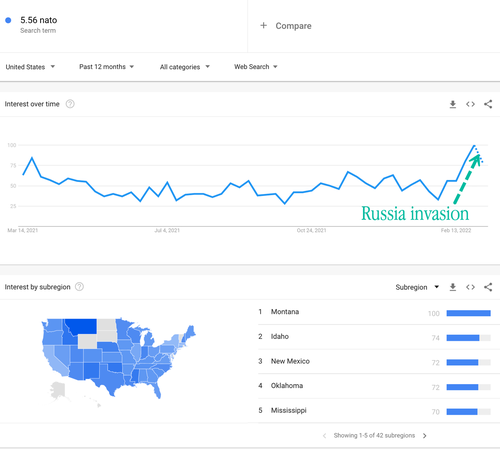 The firearms market has since "cooled significantly from the height of the pandemic surge," according to Smith & Wesson Brands Inc.
However, with a larger pool of gun owners since the pandemic and corporate media feeding people wartime propaganda, another round of gun buying could be underway. Maybe this time around, people will be panic hoard larger caliber weapons because of war threats.