Watertown, WI, March 11, 2022 — After seventeen years of dedicated professional work and development in the sound suppressor market, Griffin Armament is proud to introduce the Bushwhacker® 36, a universal sound suppressor designed to maximize feature functionality, performance, and value with a vast selection of caliber compatibility.
The Bushwhacker's durable 1.375×24 threaded 17-4 stainless steel tube chassis, is supplied with a Griffin Plan-A Taper Mount adapter, Taper Mount muzzle device, and a booster piston housing. These factory inclusions allow the Bushwhacker to quickly and easily be configured for centerfire rifle or handgun use. Its .36 caliber diameter provides end users with the most caliber flexibility possible, while retaining quality sound suppression. A vast range of rifle calibers are covered by this suppressor such as .338LM, .350 Legend, .308 win, 300win mag, 7.62×39, 300BLK and many others. The suppressor also can be fitted to a 9mm pistol offering large flexibility. Additionally, .338 caliber, .30 caliber and .22 caliber Ratchet-LOK™ front caps can be interfaced with the Bushwhacker 36 further improving sound performance with specific calibers.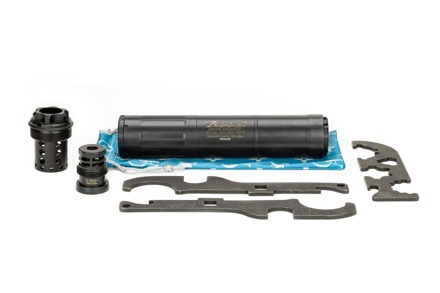 Sound suppressors can increase in weight and reduce in internal volume, losing performance over time from carbon, lead, and copper accumulation. The Bushwhacker® 36 features Griffin Armament's unique, patented Ratchet-LOK™ end cap which provides the user with a robust mechanism to disassemble their suppressor easily for periodic cleaning and maintenance. This consumer demanded technology and the included tools ensure that your investment can be reset to factory weight and sound performance specifications with minor preventative maintenance.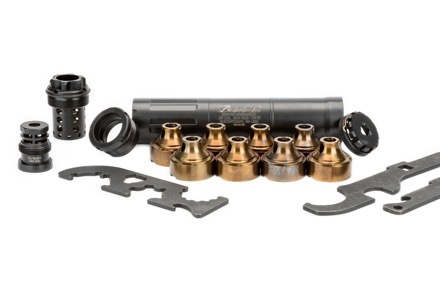 The Bushwhacker® 36 also features Griffin's patented ECO-FLOW™ baffle technology. These baffles are engineered to provide balanced sound performance on a host of popular calibers and firearms while providing increased flow, reduced back pressure and an overall optimized experience. Impressive sound performance across a broad spectrum of calibers was the goal. This can be seen in Griffin's popular sound testing videos. The 17-4 stainless tube, front cap and heat treated baffle stack put the Bushwhacker at 15 ounces in its Rifle configuration and 16.9 ounces in a pistol configuration.
Additional accessory support allows the Bushwhacker to be mounted to a myriad of hosts via the 3-lug QD kit, Plan-A XL, direct thread adapters, the 1.375×24 A2 adapter, as well as CAM-LOK®, EZ-LOK™, and DUAL-LOK™ systems.
Performance, Durability, and Versatility are hallmarks of the Griffin Armament brand. These qualities are embodied in the Bushwhacker® 36 and will ensure this universal sound suppressor remains a highly demanded product for years to come.
To find out more on Griffin Armament's entire product line, please visit their website at www.GriffinArmament.com.