HUXWRX Safety Co. (formerly OSS Suppressors) proudly announces their all-new 3D-printed FLOW 556k suppressor will be available to the public for purchase. While this suppressor utilizes HUXWRX's patented Flow-Through® and Torque Lock™ technology, it also features the enhanced benefits of 3D-printing which makes it a lighter, shorter, and quieter suppressor.
In addition to the stringent assessment and development undergone by HUXWRX, the FLOW 556k also participated in rigorous FBI Ballistic Research Facility testing. The results of which revealed the FLOW 556k as an unparalleled product when it came to weight, unsuppressed and suppressed flash, accuracy, sound suppression, reliability, and blowback mitigation.
HUXWRX Safety Co. is honored to have developed systems utilizing the advanced manufacturing techniques of 3D printing. This rapidly evolving technology allows for more efficient quality control, improved logistics, elimination of tolerance challenges, and improvements in the design and development cycle. Ultimately, we have created a product that enables development and production efficiencies unavailable with traditional CNC manufacturing. The 3D-printed FLOW 556k is only the beginning for the next generation of technologically advanced suppressor systems to come from HUXWRX.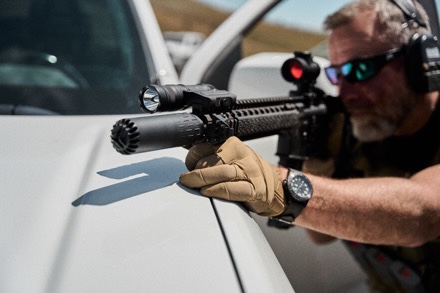 The FLOW 556k is currently shipping to dealers and will be available in the coming weeks.
Learn More here.