Matador Arms would like to proudly introduce the MAT-9™ blowback bufferless and monolithic (self-contained) upper receiver for lower receivers and almost all 9mm magazines.
This upper receiver is side-folding compatible and features Matador Arms® patent-pending EZTS™ "Easy Take-down System" with no tools required to break down the upper for maintenance and cleaning. The MAT-9™ is machined for maximum weight reduction, slim profile, and compatibility with bolt catches and lower receivers. The upper is also built with a tapered multi-material 4-piece trunnion system to maintain mechanical accuracy and durability.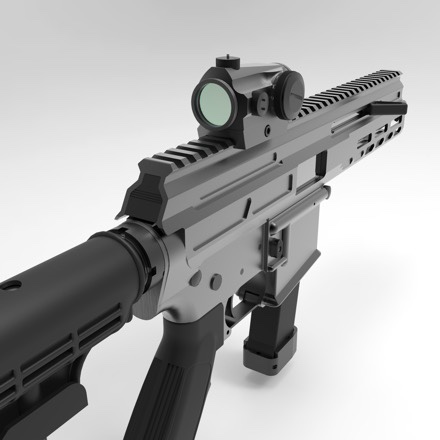 The MAT-9™ can be configured in two distinct ways:
Native Mode: Adaptable to the AR-9 Lower Receivers that are compatible with the following double-stack 9mm magazines:
-Glock ®
-Sig Sauer ®
-Colt® Stick Magazines
-HK® MP5™
-CZ ® Evo Scorpion™
Conversion Mode: AR-15 Lower Receiver: Requires the Matador Arms® Mag-X™ magazine conversion kit that is compatible with the following double-stack 9mm magazines:
-Glock ®
-Sig Sauer ®
Some Additional Key Features:
• Non-reciprocating steel charging handle (ambidexterous)
• 4140 Nitrided steel bolt and action parts
• 6061-T6 anodized upper receiver
• 4150 Lightweight Nitrided Barrel, 7.825" long, 1:10 twist, 1/2×28 threads
• NATO 1913 Spec top rail
• 3 Mlok slots (both sides, bottom)
• Compatible with LRBHO (Last Round Bolt Hold Open) lower receiver
• Ready to run with a Suppressor right out of the box!
The MAT-9™ is lighter in weight than most bolt-action upper receivers you'll see on the market today, and is ideal for those looking for durability and versality in their AR-9 configuration.
Matador Arms® will be featuring this upper receiver at Shot Show 2023 (Booth 70748 in Caesars Forum). For inquiries, please email Matador Arms at info@matadorarms.com