Authored by Caden Pearson via The Epoch Times,
Sheriffs from numerous Illinois counties on Wednesday said they won't enforce a new ban on so-called "assault weapons" and magazines that hold more than 12 rounds, signed into law by Gov. J.B. Pritzker on Tuesday.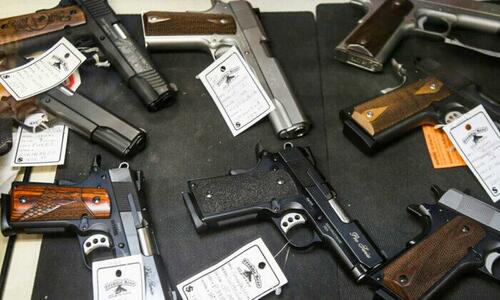 Iroquois County Sheriff Clinton J. Perzee was among a number of Illinois law enforcement officials who took to social media following the passage of the bill, arguing that it violates the Second Amendment.
"The right to keep and bear arms for defense of life, liberty and property is regarded as an inalienable right by the people," Perzee wrote in a letter.

"I, among many others, believe that HB 5471 is a clear violation of the 2nd Amendment to the U.S. Constitution."
On Dec. 13, 2022, the Iroquois County Board passed Resolution R2022-102 in opposition to the bill being enacted and further resolved at the time not to enforce or support the law through the "use of county funds, appropriation, personnel, or property."
As the Iroquois County Jail's custodian and chief law enforcement official, Perzee said that neither he nor his office would check to ensure that "lawful gun owners register their weapons with the State, nor will we be arresting or housing law abiding individuals that have been arrested solely with non-compliance of this Act."
Other gun-related crimes would continue to be investigated and enforced, he said.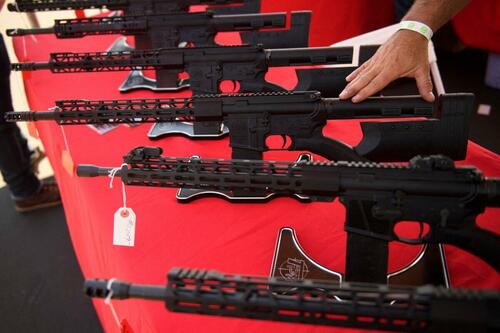 A California-legal AR-15 style rifle is displayed for sale at the Crossroads of the West Gun Show at the Orange County Fairgrounds in Costa Mesa, Calif., on June 5, 2021. (Patrick T. Fallon/AFP via Getty Images)
'Right to Keep and Bear Arms'
Edwards County Sheriff Darby Boewe also took to social media with a nearly identical message, saying that he swore to protect the constitutional rights of Americans when he took office.
"Part of my duties that I accepted upon being sworn into office was to protect the rights provided to all of us, in the Constitution," Boewe wrote in a letter. "One of those rights enumerated is the right of the people to KEEP and BEAR ARMS provided under the 2nd Amendment. The right to keep and bear arms for defense of life, liberty and property is regarded as an inalienable right by the people."
Nearly identical letters were shared by sheriffs from Logan County, Kankakee County, Piatt County, LaSalle County, Knox County, Pike County, Putnam County, St. Clair County, Union County, Wabash County, Woodford County, Williamson County, Wayne County, Shelby County, Ogle County, Jo Daviess, and more.
The messages by law enforcement officials are "political grandstanding at its worst," Pritzker's office said in a statement obtained by local media. The governor's office reportedly claimed that sheriffs and departments that refuse to enforce the ban are "in violation of their oath of office."
Bill's Passage
The Democrat-controlled state legislature imposed a ban on a variety of semiautomatic guns, magazines, and devices that allow a weapon to fire more quickly on Monday.
The Protecting Illinois Communities Act passed the Illinois Senate on Monday night by a vote margin of 34–20. The bill makes it illegal for Illinois residents to purchase, transfer, or manufacture "assault weapons" and extended magazines.
According to the bill's language, an "assault weapon" is a semiautomatic rifle that can accept a detachable magazine and has a pistol grip or thumbhole stock, a flash suppressor, a grenade launcher, a barrel shroud, or other characteristics.
A semiautomatic handgun with a threaded barrel, second pistol grip, flash suppressor, barrel shroud, and other features that can accept a detachable magazine or be easily adapted to accept a detachable magazine is also deemed an "assault weapon" under the law.
The rules classify a variety of AK-style rifles, such as the AR-10 and AR-15, as assault weapons. Firearms of .50-caliber are also prohibited.
The Illinois Sheriffs' Association (ISA) said in a statement it was "extremely disappointed" the bill was enacted, further regulating and restricting lawful gun owners from purchasing a variety of weapons.
"The ISA has opposed this legislation throughout its development and remains opposed to the bill as passed by the General Assembly and signed by the Governor," ISA's statement reads. "We, as a representative of chief law enforcement officials throughout Illinois, are very concerned and disturbed by the ongoing and escalating violence throughout our State and Country."
"We are always supportive of new tools, techniques and laws that assist us in preventing and holding accountable those that wage efforts of harm and violence on others," it continued. "However, this new law does not do that. We will continue to advocate on behalf Sheriffs and the law-abiding citizens throughout Illinois."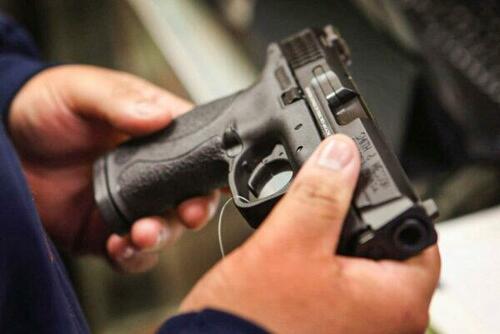 A customer shops for a pistol in Tinley Park, Illinois, on Dec. 17, 2012. (Scott Olson/Getty Images)
Commonly Owned Guns
The National Rifle Association (NRA) and Gun Owners of America said the law banned many commonly owned rifles.
Before the Senate voted on Monday, the Virginia-based Gun Owners of America (GOA) said the bill seeks to ban many commonly owned firearms, and decried the requirement to register them within the state as unconstitutional.
"Not only does this tyrannical proposition infringe on the rights of all Illinois citizens, but it is also extremely dangerous," GOA said in a statement.

"These commonly owned semi-automatic firearms are used countless times every year to save lives and deter crime. Banning them will only prevent law-abiding citizens from purchasing the best firearm to defend themselves," the statement continued. "Not to mention, the requirement to register currently owned firearms is vehemently unconstitutional."
Ahead of Pritzker's signing of the bill, the NRA said that "many semi-automatic firearms that law-abiding citizens commonly own" for hunting and self-defense are now banned.
From 1994 until 2004, the United States had a federal "assault weapons" ban, which barred the sale and production of certain semiautomatic weapons and higher-capacity magazines. The Department of Justice previously produced a report, which has been often referenced by the NRA and other groups, concluding that the federal ban enacted in 1994 did not result in a substantial decrease in shootings and killings.