Authored by Chris Summers via The Epoch Times (emphasis ours),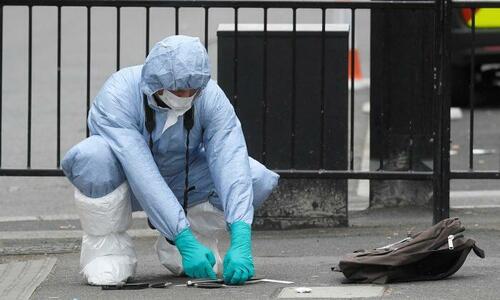 The number of deaths with a bladed instrument—mostly knives—in England and Wales was the highest since records began in 1946, with 282 people losing their lives between April 2021 and March 2022, according to a report by the Office for National Statistics (ONS).
The number of homicides using a knife or other sharp instrument went up by 19 percent from the previous year.
The increase was driven by an 18 percent increase in the number of young men dying, with the number of male victims aged 16 to 17 years jumping from 10 to 24.
One of those teenage victims was Levi Ernest-Morrison, 17, who was stabbed to death in Sydenham, southeast London after being chased by a gang armed with knives and a machete.
Alex Sprules, 17, was jailed for life for murder and Tyreese Ulysses, 19, was jailed for 13 years for manslaughter. Ulysses's mother, Nichola Leighton, 36, was also jailed for life for murder. The trial heard she was outraged when Ernest-Morrison and his friends banged on her front door, rang her son, and then drove him and Sprules to hunt down the group.
The figures showed 177 knife homicide victims were white—an increase of 36 compared with the previous year—and 59 were black, of whom 25 were aged 16 to 24.
The ONS said black people had higher rates of victimisation—"the average rates per million population were around four times higher for black victims than white victims or victims of other ethnicities."
The report did not analyse the ethnicity of perpetrators, as many of the homicide cases have not yet come to court.
The ONS report pointed out knives and machetes were used in 75 percent of teenage murders compared with just 40 percent of adult homicides.
Patrick Green, chief executive of the Ben Kinsella Trust, an anti-knife crime charity, blamed the COVID-19 pandemic and the lockdowns for making young people feel more "vulnerable."
Green said: "As we emerged from COVID restrictions and those restrictions were lifted, we were seeing more evidence of young people made more vulnerable by COVID. Gangs are particularly good at picking up on vulnerabilities, are quick to pick them up and indeed lure young people and exploit them in criminal acts. We think there could be a link there."
Green said he had carried out education workshops in London and Nottingham and had seen a "notable difference" in interactions with young people after the pandemic.
'Some Feel Less Secure in Their Community Spaces'
He said: "Some feel less secure in their community spaces, more worried. We know that fear is a factor … in terms of carrying a knife. It's one of the motivations. They feel safe carrying a knife and that alleviates the fear."
Green said there were "a range of drivers for knife crime that reach deep into our society."
"We've got to not only tackle drugs and gangs, we've also got to tackle school exclusions, we've also got to tackle mental health provisions for young people," he added.
Bruce Houlder, founder of Fighting Knife Crime London, said the rise in male teenage knife victims was "highly disturbing" and he said: "The long term failure of all governments in the last few decades to get to grips with social deprivation and the loss of hope among many young people needs to be heeded. As a nation we need to be ashamed that it has come to this."
In March 2022 Tyler Hurley, 16, was stabbed to death with a zombie knife on a bus in Chadwell Heath, east London.
His killer, Carlton Tanueh, 18, was jailed for life for murder. The trial heard that Hurley and his friends had uploaded a music video to YouTube mocking a number of Tanueh's friends.
A spokesman for the Mayor of London said: "Homicides, knife, and gun crime continue to fall in the capital, bucking the national trend. However, the mayor is clear that one death is one too many and the level of violence in London remains too high."
"That's why he continues to take action by investing in policing, expanding neighbourhood policing teams, and investing record amounts in early prevention and support programmes for young Londoners through London's Violence Reduction Unit as we work to build a safer London for everyone," he added.
The ONS analysed data held by the Home Office Homicide Index, which contains detailed information about each killing recorded by police in England and Wales.
It said "kicking or hitting" accounted for 116 homicides—17 percent of the total—and "strangulation or asphyxiation" was the cause of 14 percent of murders in which women were the victims.