Atibal has continued to push boundaries on LPVO's for years by increasing magnification ranges, accuracy, and versatility.
With the new First Focal Plane (FFP) HYBRID 1-12×32 and a new reticle from Plumb Precision, Atibal continues to push the market forward and create a new genre of optics, the Mid Power Variable Optic (MPVO).
With the HYBRID 1-12x FFP you can effectively assess short-range targets and achieve maximum range capabilities with a simple adjustment of the magnification. Building upon the ever-mimicked specifications and capabilities of the highly acclaimed Atibal X 1-10×30 scope, we bring you 12x the magnification, a very generous eye box, Side Focus Parallax Adjustment, and HOYA FCD100 Japanese ED glass. All of this combines maximum light transmission, anti-reflection, and abrasion resistance and comes packaged in a 24oz, 11 inches long, 35mm tube. Expand your reach with the Atibal HYBRID 1-12×32 FFP.
Loaded with features like daylight bright illumination, 1/10 MIL finger adjustable windage and elevation target turrets, illumination dial with 6 brightness levels with off positions between each setting, a magnification adjustment ring with integrated oversized low profile finger tab that makes deliberate zoom adjustments a breeze, first focal plane reticle, and the new Plumb Precision reticle.
Once only available through Steiner and US Optics, Plumb Precison has now partnered up with Atbal to introduce their newest reticle for the HYBRID 1-12x FFP (MPVO). The Plumb Precision Competition Reticle or "Plumb Reticle" will provide users with a new reticle pattern for rapid and accurate engagement of unknown distance targets. This reticle pattern is specifically designed to provide a more accurate and capable shooter in less time. It also allows for experienced shooters to engage targets in complex multi distance environments more effectively.
The "Plumb" reticle will allow the end user to engage targets in a close range or reflex mode, therefore capitalizing on the one power capabilities of modern variable power optics. Targets that are at intermediate ranges, from 100 to 600 meters, can be rapidly and accurately engaged using our proprietary technology. The Reticle also allows for deliberate and highly accurate shots based on the known size of the target.
Vistit Atibal to learn more about the HYBRID 1-12×32 FFP (MPVO) with the Plumb Precision Reticle here:
atibal-optics.com/products/atibal-hybrid12-1-12×32-ffp-plumb-reticle-mpvo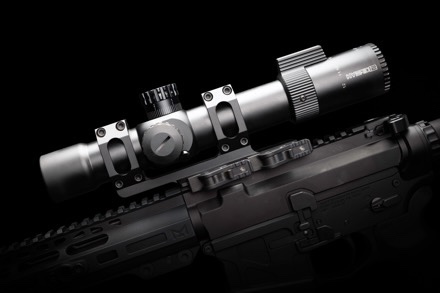 FEATURES:
LIFETIME WARRANTY
FIRST FOCAL PLANE
SIDE FOCUS PARALLAX ADJUSTMENT
LOCKING TARGET TURRETS
6 RETICLE BRIGHTNESS SETTINGS w/ OFF POSITIONS BETWEEN SETTINGS
HOYA JAPANESE ED GLASS
MIL RETICLE
LOW PROFILE MAGNIFICATION ADJUSTMENT
FOG PROOF
SHOCK PROOF
WATERPROOF
SPECIFICATIONS:
MAGNIFICATION: 1-12x
OBJECTIVE LENS DIAMETER: 32mm
EYE RELIEF: 3.5 – 6″
LENGTH: 11.25″
WEIGHT: 24.8OZ w/o MOUNT
FIELD OF VIEW: 110′ @ 1x – 9.2′ @ 12x
TUBE SIZE: 35mm
BATTERY SIZE: 1x CR2032
ADJUSTMENT PER CLICK: 1/10 MIL
MAX ELEVATION ADJUSTMENT: 86.5 MIL
MAX WINDAGE ADJUSTMENT: 80 MIL
MADE OF 6061-T6 ALUMINUM